Kung MARumi si roXas, may BINAYo sa BiHon (BInay-HONasan), may PenoPOE (Penoy backup) sa PoChiz, at ngayon ay MiBong-bong (Miriam-Bongbong) pa, magsimulang manalangin na tayo, ngayon.
Isa na namang malagim na kapahamakan ang naghihintay sa sambayanang Pilipino. Sa puntong ito, kapag nahalal ang tambalang ito...

hindi na natin magagawa pang magsisi, dahil manhid, tulala, at baliw na tayo sa kawalan ng pag-asang makaahon pa sa matinding kahirapan, mga kalagiman at mga kabuktutang idudulot ng tambalang ito.
Remember the old hit song "Yesterday Once More" by the Carpenters? Well yesterday could be back in our future someday soon. Okay here's the scenario. Ferdinand "Bongbong" Marcos Jr. wins the Vice Presidential race because all that hidden Marcos wealth was suddenly "unhidden" to buy his election.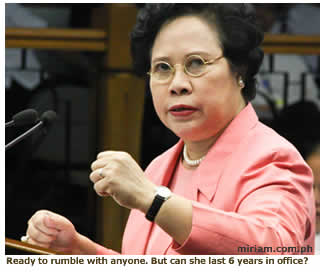 Then assume his teammate Miriam Defensor Santiago, with some of that Marcos money to boost her poll numbers, becomes president. What the Philippines will then have is an extremely volatile situation—like a bottle of nitroglycerine resting against a jackhammer; one wrong move and everything goes kaboom!
Why? Because Santiago is such a kinetic personna. When she is not flying off the handle or picking a fight with some foe or another, she's dealing with her hypertension or her stage 4 cancer. There is nothing measured or sedate about this woman. She is always a spinning top in danger of spinning out of control. She claimed she had stage-four lung cancer, but is now cancer-free. Hmmm, with hardly any chemotherapy—smells a bit too "fishy" for skeptics like us!
Anyway, given her age (70) and her medical condition, it is not hard to imagine Santiago encountering health problems soon after assuming office. The Philippine is not an easy country to govern, given its geography, corruption, and the ingrained bad habits of many Filipinos. It will be a herculean task for any president to reign in all those disparate forces and unite the country.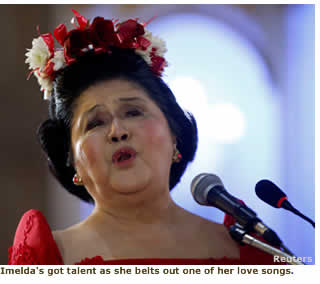 We certainly don't wish ill on anyone—and again, this is just a hypothetical scenario we are discussing here—but what if "President Santiago" becomes incapacitated soon after assuming office? Then "Vice President Marcos" becomes president.
And with the Marcoses back in Malacanang, definitive changes will likely occur. For starters the "Apo" will immediately be buried at the Libingan ng Mga Bayani. Imelda will likely reconstitute her gargantuan shoe collection and maybe even begin singing again. Aging "Macoy" cronies who are still alive will all reunite for one final "hakot" of the Philippine treasury. And Philippine military brass will have to take their eye of China for a while in order to re-learn the "Ver doctrine" and its heavy emphasis on boot-licking and a*s-kissing. And that's just for starters, folks.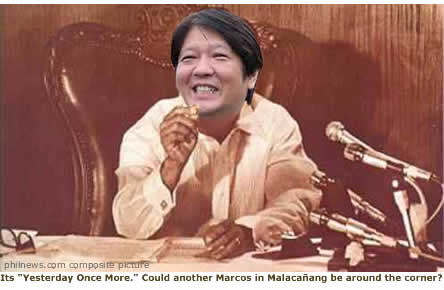 So if in 2016 the Miriam-Bongbong tandem wins. Pray! Pray hard and offer all kinds of novenas for Santiago to stay lucid, able, and healthy during her entire term—because the consequences would be too difficult to even imagine.
Published 10/20/2015